Estate planning can be a difficult and emotional conversation as it deals with assets and choices in the event of incapacitation or death, which are difficult topics on their own. It's no surprise that despite the importance of estate planning, it's usually on the bottom of most people's to-do list. However, we understand that while it may be a tough topic for everyone involved, many people have questions about the estate planning process.

We recently hosted a webinar during which Estate Planning Attorney Matthew Belardes provided a general overview of estate planning in California and answered viewer submitted questions at the end.

For those of you interested in viewing the webinar, you can download the recording and presentation here. Below, we've included a summary of the webinar topics for you in case you missed the webinar and would like to learn!
First, it's important to acknowledge that there are many misconceptions regarding estate planning. Despite popular belief, estate planning is not just for the wealthy or elderly. Furthermore, certain assets aren't automatically passed down to the spouse or kids without hassle.

By a young age, most people understand the concept of a will, but there are many more aspects to estate planning than just the one document. It is a common belief that these other aspects are complicated, confusing or time consuming, but this is simply not true, especially with the resources available to help you understand the process. 
Having an estate plan goes beyond avoiding the "death tax," and in actuality, estate planning isn't about death at all.
So if these are the myths, what are the truths about estate planning? 
To better understand estate planning, you first must understand: What is my estate?

To put it simply, your estate is everything you own. This is your tangible property and your intangible property. These can be things like real estate, cash, investments, personal property, retirement accounts, or life insurance.

With this in mind, what is an estate plan? "An estate plan is a legally binding set of documents that guide the handling of your affairs in case of incapacity and death."
Knowing this, the final question is: Do I need an estate plan?
The good news is that the government has an estate plan for you. The bad news is that the government's plan is costly, time consuming, and may not satisfy your wishes. However, if you want control of your life and property, it would be recommended that you establish your own plan.
Now that you've decided you want to explore estate planning for yourself, you'll have to consider the documents you need and their purposes.
Estate planning tools can be divided into two categories: those needed in case of incapacity, and those needed in case of death.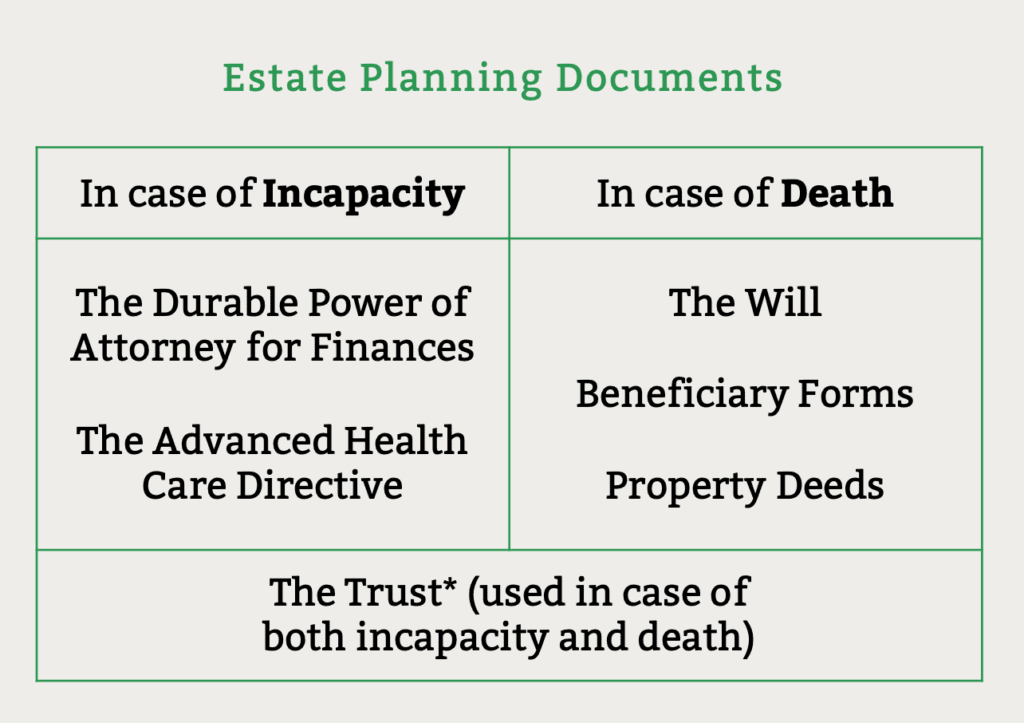 The 7 Planning Considerations of Estate Planning:
The full recording of the webinar provides in depth information on each of these topics. For those who are unable to watch the webinar or would prefer some light reading, the links above provide some more details on each topic as well. 
The 4 major issues faced during the estate planning process. 
Choosing fiduciaries

Planning the distribution of assets

Integration with financial planning

Achieving the goals of your estate plan
With this information, you should now be familiar with the basic knowledge to continue your own research into estate planning.
Risk Disclosure: Investing involves risk including the potential loss of principal. No investment strategy can guarantee a profit or protect against loss in periods of declining values. Past performance does not guarantee future results.
This material is for information purposes only and is not intended as an offer or solicitation with respect to the purchase or sale of any security. The content is developed from sources believed to be providing accurate information; no warranty, expressed or implied, is made regarding accuracy, adequacy, completeness, legality, reliability or usefulness of any information. Consult your financial professional before making any investment decision. For illustrative use only.
Opinions expressed are subject to change without notice and are not intended as investment advice or to predict future performance. The Standard & Poor's 500 (S&P 500®) is an unmanaged group of securities considered to be representative of the stock market in general. Indexes are not available for direct investment. The performance of the index excludes any taxes, fees and expenses.
Registered principal offering securities and advisory services through Independent Financial Group LLC (IFG), a registered broker-dealer and investment adviser. Member FINRA & SIPC. Advisory Services through Capital Growth, Inc. (CGI). CGI and IFG are not affiliated.
Want more Capital Insights?